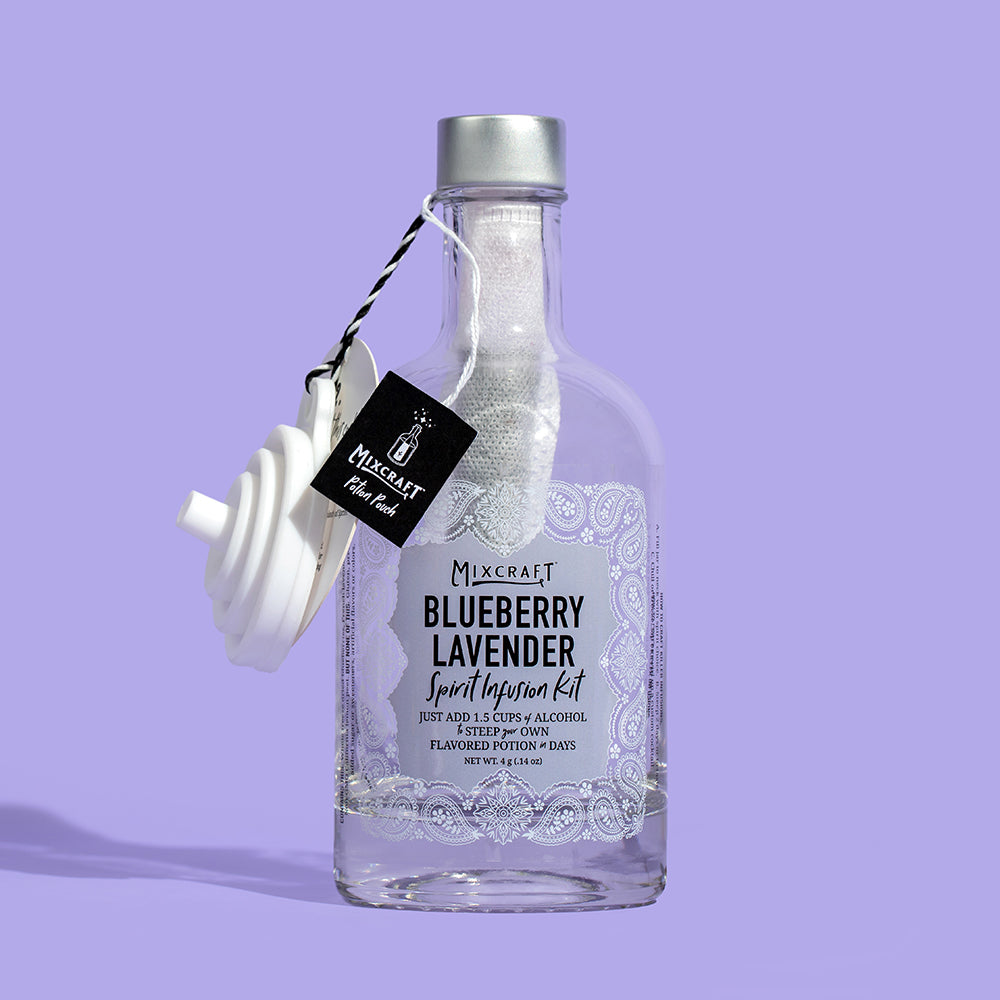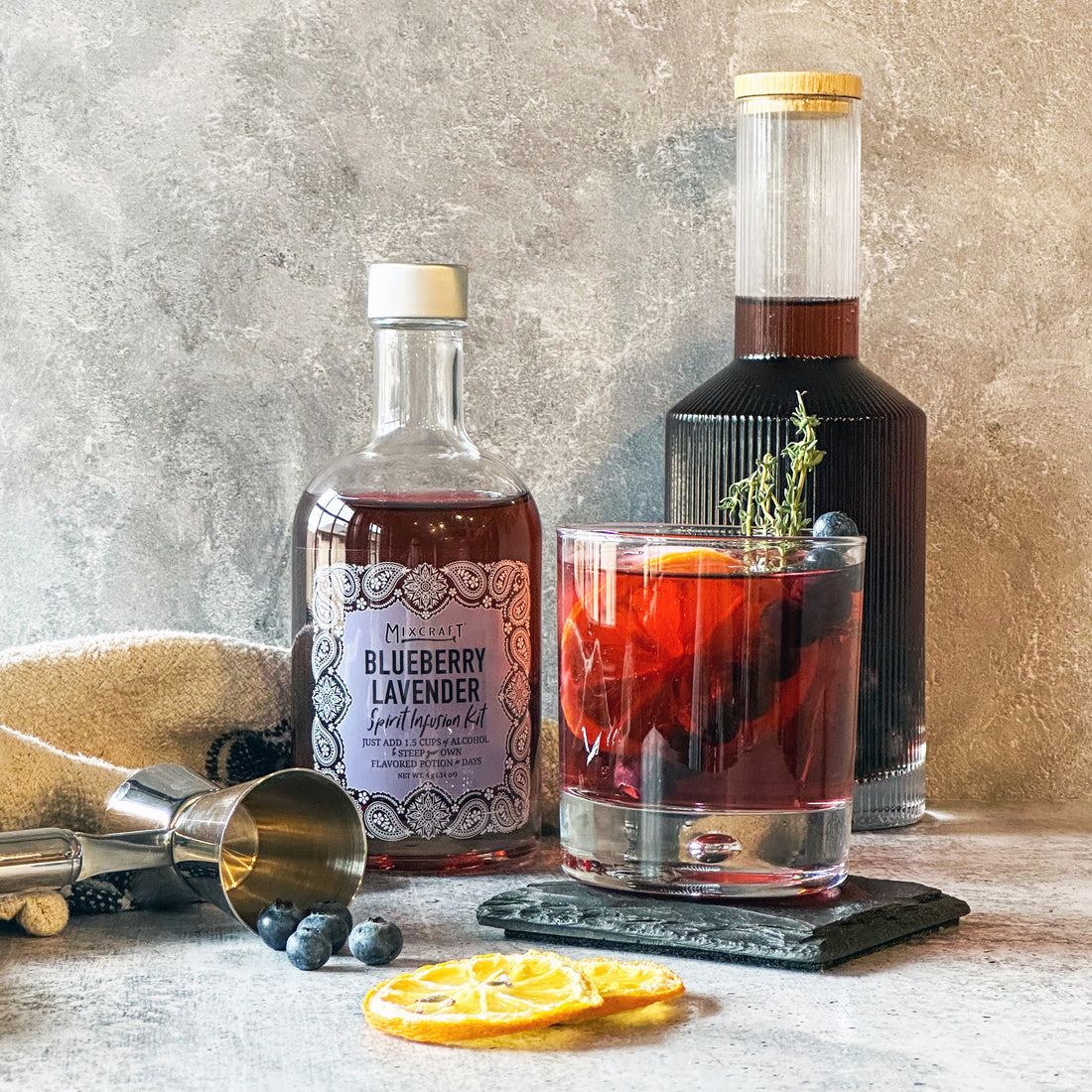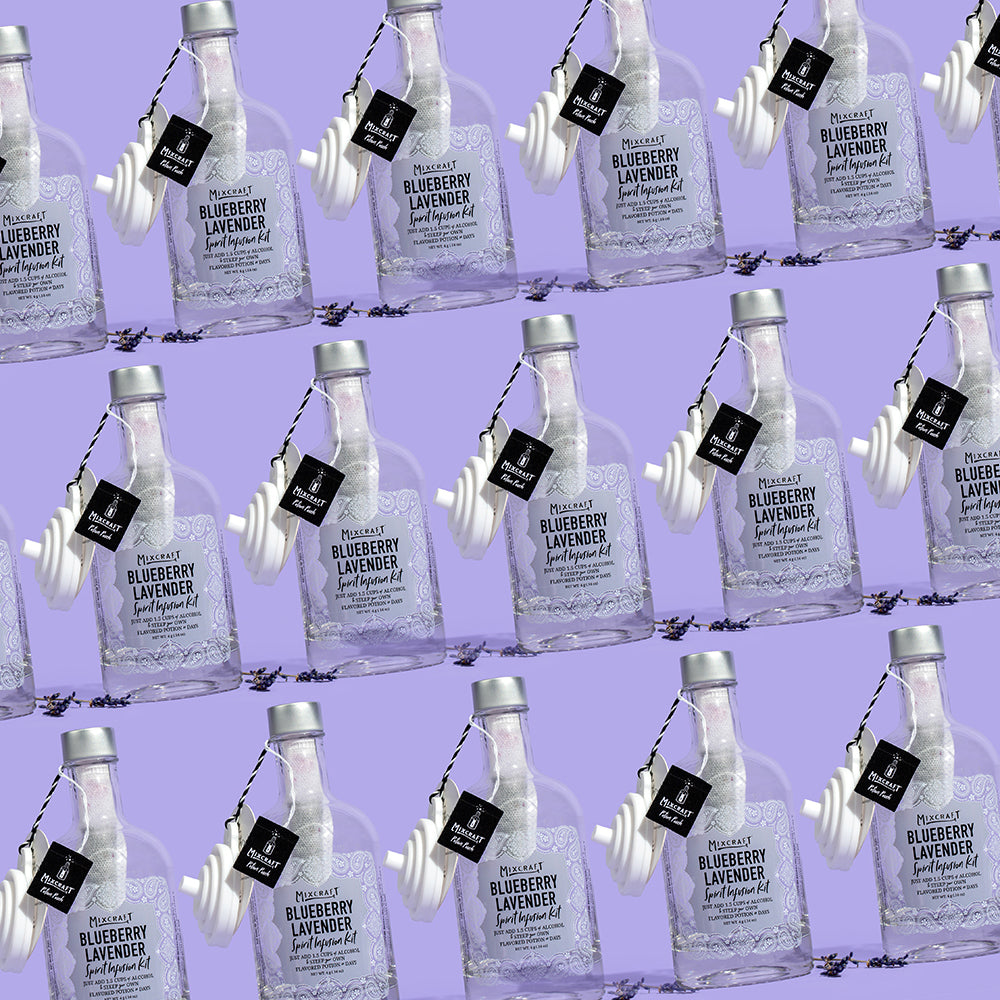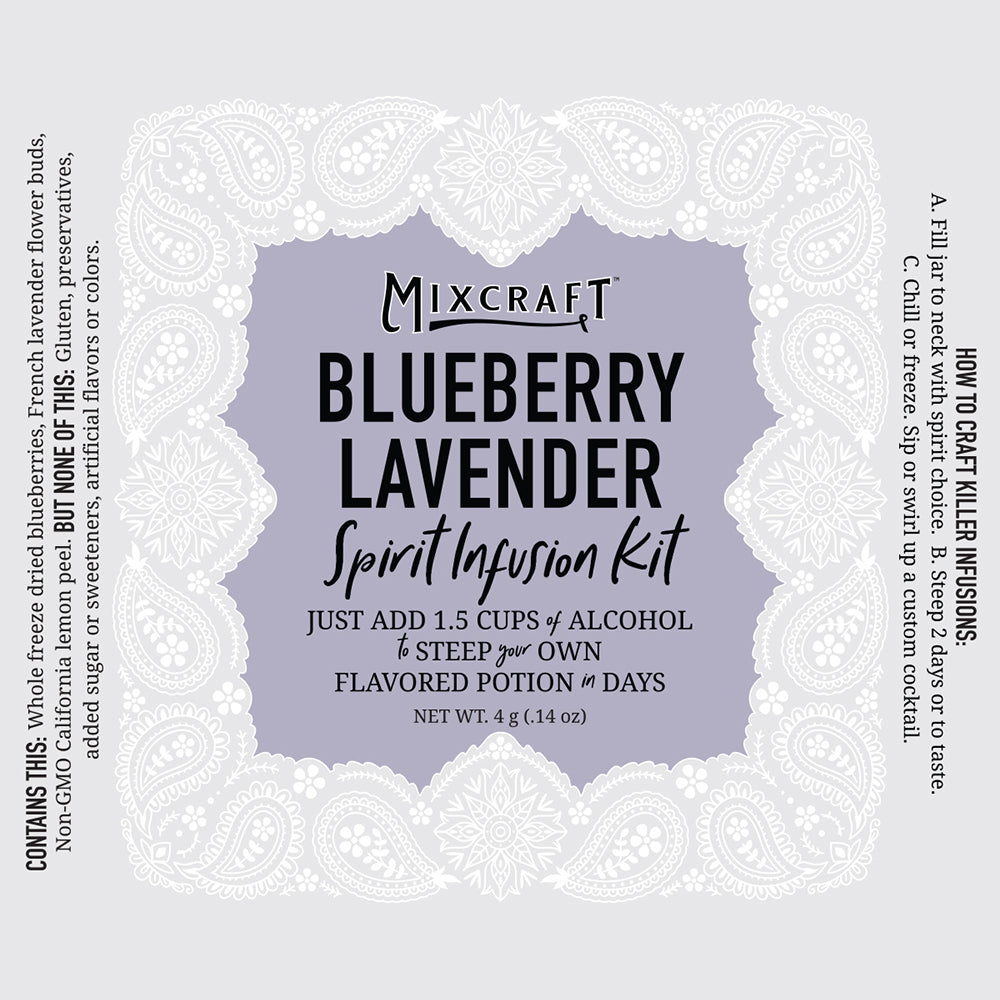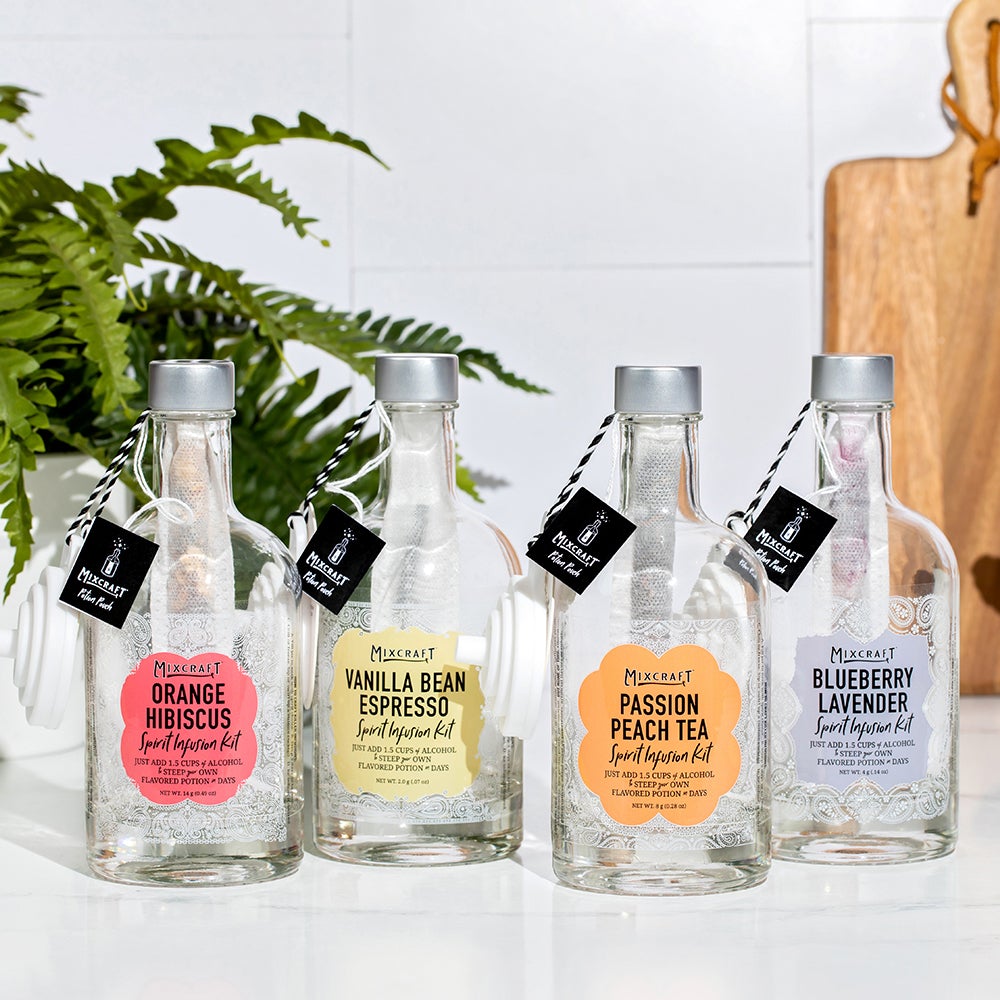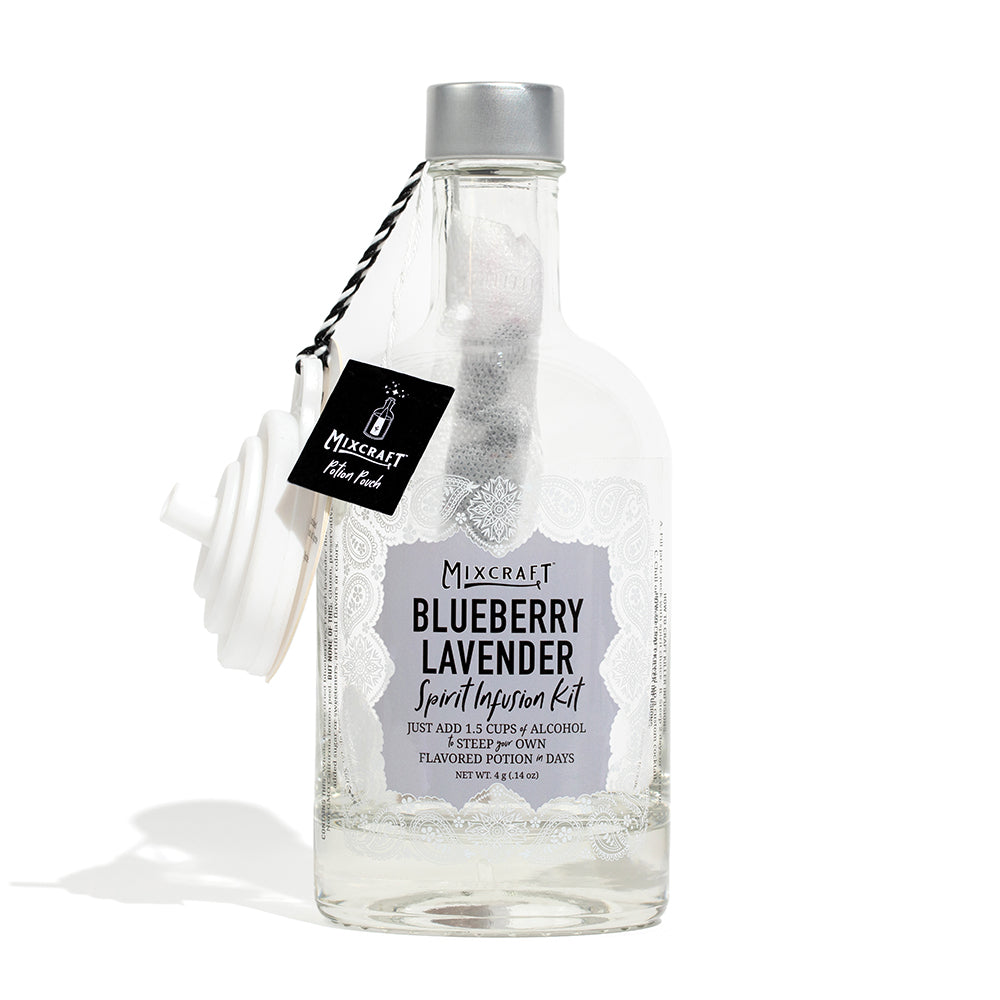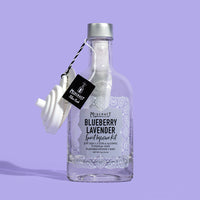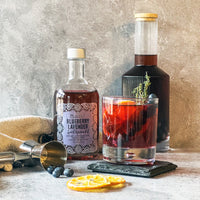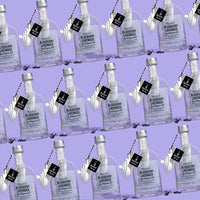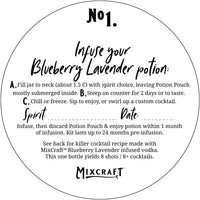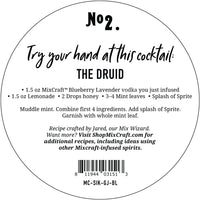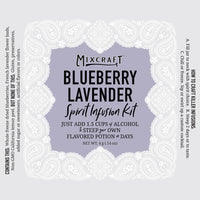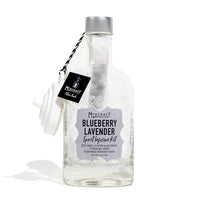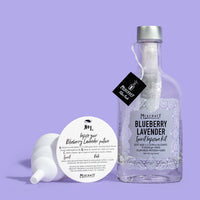 Blueberry Lavender Spirit Infusion Kit
Dinner party? Date night? Best gift ever? Enter the easiest alcohol infusion kit around. No gritty ingredients to strain out, no chunks of dried yuck floating in your drink. No added sugar—just fresh, incredible taste that comes from the highest-quality all-natural fruit and spices (French lavender flower buds, non-GMO California lemon peel? But of course.) We even provide the funnel for bottle filling, so there's no mess for you. We've thought of it all, so you can focus on making your happy hour even happier. How's it done? Just add 1.5 cups of your favorite alcohol to steep your own flavored potion in days. Sip straight. Or add yummy extras to mix a custom cocktail. Makes 8 drinks.
FLAVOR PROFILE: 
Whole blueberries & French lavender flower buds supported by non-GMO California lemon peel taste mellow but flavorful.


WHAT YOU GET WITH YOUR KIT: 
Infusion-ready glass bottle with metal lid:
7.25"H x 3"DIA, 375ML capacity
Isn't it the cutest? We designed the label to be removed—please reuse the bottle to grant it its next life.
Blueberry Lavender Potion Pouch:
NET WT

4 g (0.14 oz)


Filled and ready for you, tucked inside the bottle, containing our exclusive blend of goodies that will make your infusion wicked good. You add nothing but your favorite alcohol.
The Blueberry Lavender Potion Pouch contains this: 
Whole freeze dried blueberries, French lavender flower buds, Non-GMO California lemon peel.
But none of this: 
Gluten, Preservatives, Added sugar or sweeteners, Artificial flavors or colors.
Collapsible silicone funnel
A nice little addition to your kitchen tool arsenal. 
Instruction tag
Contains infusion how-to, plus our Mix Wizard's recipe for his craft cocktail, which he fondly calls "The Druid".  

HOW TO CRAFT A KILLER BLUEBERRY LAVENDER SPIRIT WITH THIS KIT:  

Using the included silicone funnel, fill the bottle to the neck (about 1.5 cups) with your choice of spirit, leaving the included Potion Pouch submerged inside. Here at MixCraft, we love our Vodka—but Gin, Tequila, Rum, or Bourbon are great choices too. Or choose hot water for a custom alcohol-free beverage. 
Steep your bottle on the counter for 2 days or to taste. If the spirit moves you (See what we did there?) give it a little shake and a grin when you look at it to infuse it with even more love. 
Chill or freeze. If you like your liquor straight, stop right there, and sip (or shoot?) to enjoy. Feeling fancy? Take it to the next level, and swirl up a custom cocktail. Our Infusion Kit even provides the recipe for our Mix Wizard's favorite creation. Lost your tag? Don't get witchy. "The Druid" recipe is featured on Food Network's Food.com site. Or search recipe #

542360

. Want more options? Check out our Recipe Book here.

When complete, discard the Potion Pouch. Enjoy your potion within 1 month of infusion. 

Kit lasts up to 24 months pre-infusion.